#BBNaija: Kaisha Broke The Internet After Calling Lucy An Old Cargo
Just few days ago BBNaija lovers were saying the house is too peaceful and i keep telling them it's too early for fight, well they have started giving us the fight we have been looking forward to. The real cause of the fight is unknown to me but i met part of it and in the video we heard Kaisha calling Lucy an old cargo, well that is too much anyways.
Seems diz night is filled up oh🤣🤣🤣🤣
Kaisha:Oldcargo!!!!
to lucy#BBNaijia pic.twitter.com/wV2BQAuN7J

— glosscity.🥴💅🍭 (@OnyekachiWilson) July 25, 2020
Ozo, Nengi and Dora
Ozo, Dora and Nengi seems to be in some kind of joint entanglement, Dora likes Ozo while Ozo likes Nengi. Dora and Ozo can have an amazing friendship without dating. I understand that Ozo is trying to tell Dora he wants to be with Nengi but he doesn't want it to affect their friendship. Dora however isn't taking it well because she has already caught feelings which isn't his fault. It takes a mature guy to clear the air like this. Nigerians especially women can be sentimental most times. Everyone has their place in your life. Just do your best to balance it. Dora needs time to process the information.
When it comes to contracts, the deal isn't sealed until its signed. In the Big Brother House, it's not officially a 'ship until lock lips are locked. Of the two possible relationships, neither of them have shared that magical moment where lips lock and 'ships are officially launched.
Eric and Lilo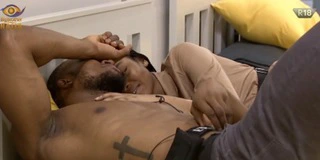 Since the early days, these two have been closer than fishermen and nets without catching the magic that leads to a kiss. Today was agonisingly close as the pair were lying in bed for the majority of the morning wrapped in each other's arms. It seemed for the entire time that they would finally swap saliva, but all the holding, hugging, and head stroking lead to nothing but more waiting. It seems that Eric is still weighing up his options while Lilo looks so committed. Hopefully, they seal the deal soon.
Neo and Vee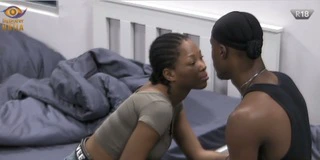 This couple seems destined to never get it right even though they are so perfect together, and tragically, so different. It appears as if Vee's forward nature is a little too much for the traditional Neo to handle. There have been many times where their closeness was undeniable, but in the end, the result was always the same. No lovey-dovey.
The Big Brother Naija Housemates are known for loving being in love and watching these 'ships fail to set sail is killing us all. Let's hope the Housemates get it going before they get to go home because right now the most important thing is still on lockdown. The lips.
Related posts
Drop comment below 👇
READ ALSO 👇